More About "Cleaning Debris from the Sea"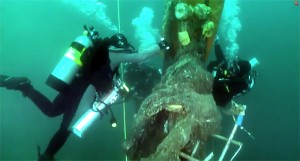 Ghost Traps
The Ocean Defenders Alliance is a group of California-based environmental activists who clean up the sea floor, one section at a time. Composed of a skilled and dedicated group of volunteers, this group works tirelessly to improve ocean health by removing debris, pollution and 'ghost traps' left in the ocean. Ghost traps refers to the massive amounts of old fishing gear, nets, ropes and lobster traps that get tossed overboard and never taken back out. These hazardous objects remain in the water and continue to net and trap unsuspecting marine life, which in turn attracts more marine life and creates a fatal cycle. Southern California Environmental Reporter Jed Kim goes out on a salvage mission with the ODA crew to document what a day at sea is like.
 The Dive and Haul Process
 Once the divers locate a deposit of marine debris,  they set about dragging up each piece of debris by hand, via submersible or with an inflatable dive balloon. After reaching the target area, ODA divers "buddy up," perform a series of safety checks, and coordinate their dive plans before entering the water. Once at the underwater site, divers assess the situation and carefully work to free living animals from the traps, nets, etc. Dead animals are also released into the ocean because they serve as food for other marine life.
After this liberation process, the divers attach a float bag to the debris, which gently lifts the mass of man-made waste to the surface. When the boat crew sees the float bag emerge on the surface, and the divers are safely aboard, the vessel is repositioned and the deadly garbage hauled onto the deck. Once everyone is back on the boat, ODA performs an initial sorting of the debris.  They recycle as much of the debris as possible, and ensure proper disposal of the rest. ODA estimates they have removed over 50 tons of debris from the ocean floor.
The Problem – Sunken Vessels
It's part of boating reality that a very small percentage of vessels sink due to bad weather, accidents, or structural problems. However, increasing numbers of boat and boatyard owners are deliberately sinking vessels to get rid of them for a variety of reasons such as collecting insurance, avoiding loan payments, not wanting to dispose of it properly, or simply not wanting to deal with selling the craft.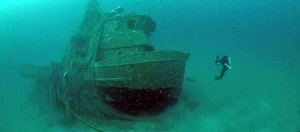 Many people believe that sinking a boat is a good thing because it can create habitat for ocean life, but this is often not true. In fact, when a vessel is not sunken properly, it becomes a serious threat to the surrounding marine flora and fauna-and humans.  For example, if a vessel's mast (or any other part) is near the surface of the water it is a hazard to humans who may travel over it while boating, jet skiing, surfing, or swimming.
To properly prepare a vessel for reefing, there are government regulations, permit processes, appropriate waste disposal requirements, and mandatory vessel inspections by appropriate authorities. There are also legal requirements governing the transfer, location, or sinking of vessels as artificial reefs. Further, there are materials of concern that may be present aboard vessels, which could include, but are not limited to: fuels and oil, asbestos, polychlorinated biphenyls (PCBs), paints, debris (e.g., vessel debris, floatables, introduced material), and other materials of environmental concern (e.g., mercury, refrigerants).
When a vessel sinks without all of the above being properly tended to, the consequences can be very dangerous to the marine life in the vicinity. In addition to the pollutants, the vessel (whether in one piece or broken into parts) can be roughly moved back and forth by the currents — especially violent winter storms — damaging the often fragile ocean floor as it drags and pounds against it.
Gyre Pollution
In the world's oceans are large systems of rotating, interconnected ocean currents; they are particularly linked with large wind movements, and are called gyres. There are five gyres: Indian Ocean, North Atlantic, South Atlantic, North Pacific, and South Pacific.
Since ODA is based on the West Coast of the United States, they are particularly concerned with "The Great Pacific Garbage Pat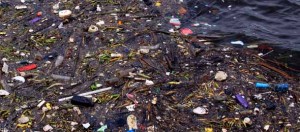 ch," also described as the "Pacific Trash Vortex," which is a gyre of marine debris in the central North Pacific Ocean. The Patch is characterized by exceptionally high concentrations of pelagic plastics, chemical sludge, and other man-made debris that have been trapped by the natural currents of the North Pacific Gyre.
Much of this debris has been determined to be plastics. Some plastics sink, such as polycarbonate, polystyrene, and PETE, while other plastics float on the ocean's surface (e.g., LDPE, HDPE, polypropylene, and styrofoam).
It has been estimated that 80% of the garbage in these gyres comes from land-based sources and 20% from ships-but this fact, along with the size of the Great Pacific Gyre itself, is widely debated. Some experts estimate the Gyre's size to be as large as the continental United States and others say it's the size of the Hawaiian Islands. ODA believes that even a Hawaiian-Island-sized collection of plastic and other garbage is of serious concern, and needs to be removed from the oceans.

LINKS
Visit the ODA Website: http://www.oceandefenders.org/
Read ODA Articles: http://www.oceandefenders.org/news-and-media/oda-articles/
Watch a Video with "Her Deepness" Sylivia Earle: http://www.oceandefenders.org/news-and-media/videos.html
Volunteer with ODA at sea: http://www.oceandefenders.org/get-involved/volunteer-at-sea.html