More About "THE LOST ART OF READING NATURE'S SIGNS"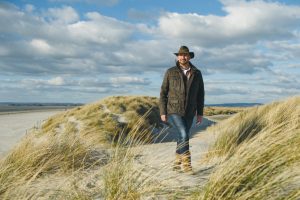 THE LOST ART OF READING NATURE'S SIGNS
Tristan Gooley, 44, is an author and Natural Navigator. He can navigate across oceans, wilderness and cityscapes alike, using only the natural clues around him. He's an intrepid explorer, and the only person to both fly and sail solo across the Atlantic. He can find precise locations without cell phones, GPS, maps, or any help, except from his five senses.  The roots of a tree indicate the suns direction, the big dipper tells the time, a passing butterfly hints at the weather, a budding flower points south.
Gooley provides 850 tips to becoming a Natural Navigator in his book, "The Lost Art of Reading Natures Signs," which teaches people how to use outdoor clues to find your way, predict the weather, locate water, track animals and other forgotten skills our ancestors relied on.  
"One small clue can completely change how we see the outdoors. Everything in Nature has meaning and can be used to tell us something. The key is Curiosity." 
Gooley's method is a little bit like Sherlock Holmes, using careful observation to deduct clues.  "To give you an example, we can use the stars to navigate, but we can also use them to tell time and forecast the weather. When we see a clear star and suddenly we see it twinkling more, that's a sign there's moisture in the air and the weather may deteriorate."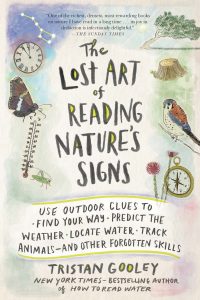 Trees are another favorite navigation tool of Gooley's. "There are nineteen ways we can navigate using a tree. Leaves grow more heavily on the southern side, roots are larger facing prevailing winds.  We can also make a map using trees because trees are very sensitive to water. Members of the Willow family are telling us we're getting very close to water and Beech trees indicate the ground is much drier. Every single tree is making a map and helping us find North, South, East and West."
Gooley reads signs in the city as well as he does in the country. "I take the view that everything in the city is a clue. Buildings aren't built randomly, they take light and all sorts of other things into consideration. Not least religious buildings. Historically, all Christian churches are aligned from west to east with the altar at the eastern end so you're praying towards the Holy Land and in some very old churches near when I live there are perhaps 30 indications of direction, you know the way the graves are and the layout of the church and the churchyard." 
Gooley believes there's a part of the human brain that has evolved to love solving puzzles, which stems from our ancestor's experience in nature. "The sound of a birdcall changing to an alarm call is telling us that a predator is approaching. if a whole group of birds make a certain noise, that is bad weather approaching. if the whole wood goes silent, you look straight up, you see a bird of prey.  None of it is rocket science, because we had to be able to understand this, otherwise our ancestors wouldn't have survived and none of us would be here."
Gooley says once you learn to read signs in nature – they become alive.  "When you learn a sign, they start to take on a feeling, like this isn't just a fact, or a bit of data, this is something I know and I have a relationship with. And I see that whether they're clues in water or stars or a tree, in a city, you get to know them in the same way you get to know people.  and then you get not only the satisfaction, but this kind of joy if you would see an old friend." 
Links