More About "Nile Water Musicians"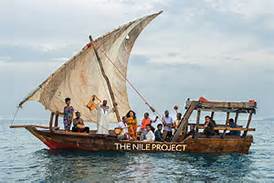 The Nile Project shows us that making music together can help people solving problems together. The Nile Project is a musical collaboration program founded by Egyptian ethno-musicologist Mina Girgis and Ethiopian-American singer Meklit Hadero to address the Nile Basin's cultural and environmental challenges. The project brings together artists from the 11 Nile countries to make music that combines the region's diverse instruments, languages and traditions. The musical experience aims to inspire cultural curiosity, highlight regional connections, and showcase the potential of trans-boundary cooperation.
Beyond concerts and musical content, participatory workshops and cross-cultural dialogues provide university students with unique intellectual experiences, deepening their understanding of the Nile ecosystem, and stimulating new ways of thinking, communicating, and doing. The Nile Fellowship and Nile Prize programs incentivize university students to apply their education and training toward mobilizing their peers and pioneering innovative solutions to the Nile Basin's complex and inter-related challenges.
Transcript
Heather McElhatton: I'm Heather McElhatton and this is A Beautiful World.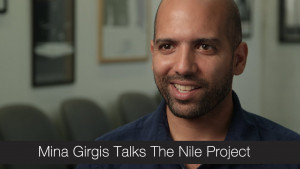 Mina Girgis:   If you think about water, water is not just what you drink, water is a source of life.
HEM: That's Mina Girgis, (Pronounced MEE-nah GARE-giss) who's from Cairo, where water is both sacred and scarce.
MG: If you come from Egypt, the Nile is a source of life, it's really the reason why Egypt exists.
HM: The Nile is the reason many regions exists and thrive. It's one of the longest rivers in the world, and in the world of trans-boundary water conflicts, it might be one of the most challenging cases that anyone is dealing with in the world today.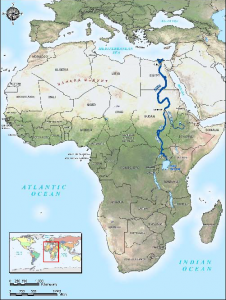 HM: According to Mina, most of the water issues the region will be dealing with in the coming years are mainly rooted in national, religious and cultural identities.
MG: If you think about water challenges, most of those problems are not to be addressed through technical solution's, as much as they can be addressed through people solutions. How do you get people to develop the political will, the trust, to be willing to cooperate and share the water and also to find mutually beneficial solutions?
HM: So how DO you get people from vastly different cultures and regions, who are all sharing the same water source, to care about each other and each others needs, and cooperate? Well Mina has an answer…and it's music.
(Music)
MG: Well, music can help people become interested in one another and drive their cultural curiosity.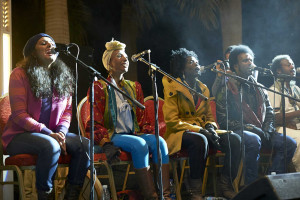 HM: To inspire and educate people about the issues of the Nile River, Mina created a musical collaboration called "The Nile Project," which features musicians from 11 different countries along the Nile River, including Egypt, Ethiopia, Eritrea,Uganda, Kenya, Tanzania and Sudan. All the musicians come from vastly different regions, cultures and musical backgrounds. In fact many of them can't speak to each other because of language barriers and most of their instruments are never normally played together, even still they manage to play together onstage seamlessly. Each musician taking turns leading the others on different songs.
MG: You know one of my favorite moments is when I see our musicians are surprising each other.
(Music)
MG: After a few days, where everyone is teaching everyone, you realize that no one knows everything and in a way, if we want to create music that sounds good, we have to all put our egos aside and really dig deep into the music, and find ways of collecting or strength together and making something that allows each of us to shine and also supports others.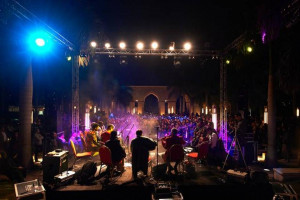 HM: All the many styles and songs inspired by the Nile Project and the different musicians who compose it, weave together seamlessly, like water currents of a river.
MG: My idea of a Beautiful World would certainly include music, a lot of music, a lot of chaos, and a lot of kids running around.
HM: You can learn more about Mina Girgis and his project online at:  www.thenileproject.org You can  also listen to their music on soundcloud. I'm Heather McElhatton and this is A Beautiful World.
…Brought to you with help from the Pohlad family foundation.
________________________________________
LINKS
Learn more about The Nile Project: www.nileproject.org/
Listen to music by the Nile Project on Soundcloud: @nileproject