More About "The Recycled Orchestra"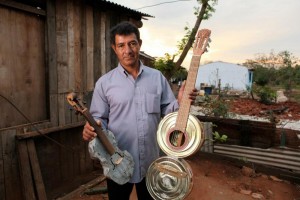 Heather McElhatton: LUIS SZARAN is a music teacher in Paraguay, he says "for me, music is the smile of the soul….." and he's always believed in the power of music as an element for social transformation.
That's why he wanted to teach music to kids living on the outskirts of town. There, at a landfill in Cateura (KA-TOUR-A), Paraguay a transformation has started which has created the most unlikely orchestra, where children use recycled trash to make instruments. One of those students whose joined the landfill orchestra is Ada Maribel Rios Bordados.
Ada Maribel: I'm 13 years old and I play the violin, when I listen to the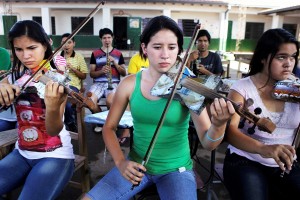 sound of the violin I feel butterflies in my stomach. It's a feeling that I don't know how to explain.
Heather McElhatton: Another student is Juan Manual Chavez.
Juan Manual Chavez: I'm 19 and I play the cello. This cello is made from an oil can and wood that was thrown away in the garbage. The pegs are made out of an old tool used to tenderize beef and this was used to make Gnocchi.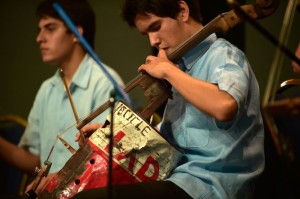 Heather McElhatton: More than 40% of children in Cateura don't finish school because their parents need them to work. most people make a living by collecting and recycling trash. They rummage through mountains of festering garbage – looking for items to sell.
One of the garbage pickers is a man named Nicolas Gomez, or "Cola" to his friends…..Cola's father died when he was 7-years- old and he had to start working to help his mom support his 9 siblings. He also had a deep love of music and learned to play guitar at age 11.
Cola found the broken shell of a violin buried in the landfill – and decided to restore it. THEN he decided to start constructing other instruments made from recycled materials. He made cellos from oil drums, flutes from water pipes , guitars from packing crates, and saxophones with keys made from bottle caps and shirt buttons.
Together these resourceful musicians have created "The Recycled Orchestra." The orchestra has grown from just a few musicians to over 35, and Cola estimates that they have made over 450 instruments made from trash.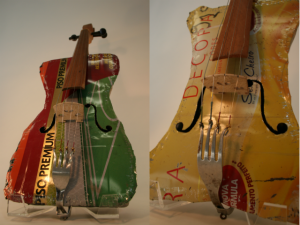 The Recycled Orchestra remained relatively unknown for years, until a documentary team released a video trailer called "Landfill Harmonic." 60 Minutes picked up the story and next the orchestra was touring other countries playing their instruments made from trash in concert halls around the world.
The documentary's executive producer ALEJANDRA AMARILLA said in the documentary that music has completely changed the children of Cateura.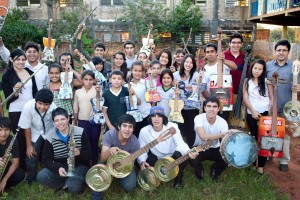 Alejandra Amarilla: First of all, just by the way they talk, I can see this confidence, this new confidence I've never seen before. I see them smiling constantly, very happy, holding their violins with such pride. The power of music, the knowing that no matter what your situation is, your environment, that you can create beauty out of anything."
Heather McElhatton: To find out more about the Recycled Orchestra  visit Landfill-Harmonic-Movie-Dot-Com.