More About "Project Success: Connecting Students with their Purpose"
A Beautiful World: Project Success helps students identify, achieve their dreams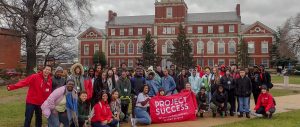 The program started out 25 years ago with the recognition that students needed more than an education to define their lives.
As kids are getting ready to go back to school, a nonprofit program in Minneapolis called Project Success  is getting ready too. The program helps students connect to a purpose, discover who they are and find out what they want from life after high school. 
Adrienne Diercks founded Project Success in 1994. She wanted to motivate students and help them not only find but achieve their dreams. Twenty-five years later, the program serves 14,000 students. 
"The idea back then was, what if when you're 11-years old you're not only getting a good education, but side by side you are taking time every month to dream about what you want to do?  You're taking time to ask yourself questions and stop and say, 'Why am I in school, why am I doing this homework, what do I want to study, what am I good at? What do I like and how does that translate into my decisions for my future?'"
Project Success curriculum is delivered by  professional facilitators — both in class and as a part of other experiences that help students dream, ignite and grow. Experiences like going to the theater, taking Boundary Waters camping trips, going on college tours, finding scholarships, and even traveling abroad. 
"Letting us dream with our eyes open, is what Adrienne always says," said student Shaadia Munye, 19. "I will repeat it until my grave, because its very real. We tell them what we want in life, and they give us all the tools and resources to make those dreams come true."
Project Success made Munye's dream of going to France come true: "The Project Success program manager said, 'Yes, this is for real, we're going to take you, all expenses paid!'  And I said, sign me up!'"
Project Success uses the power of these exciting experiences to encourage students to dream and make plans for life after high school.
Diercks says one of the keys to Project Success is working with students over time.  That's been the program's goal from the beginning. Facilitators work with students over the course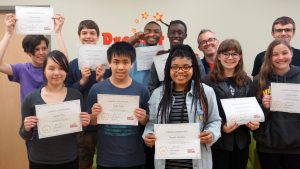 of many years, allowing students to discover who they are and what they want to do.  Some students are attracted to the arts programming, others are drawn to the outdoor experiences or to the computer science programs. Each student is different, and Diercks said it's critical not to assume or make judgments about anyone. 
"Every single person's story is different, and the assumptions people make about us, ourselves and others are almost always not correct," she said. "We meet every student where they are, knowing that all things are possible and every individual is powerful beyond measure. That is part of the critical piece of this program."   
Also critical to helping students are joy, love, and energy.
"How do you key into a student?" Diercks said. "You love them, you see them, you have joy and energy. And you see possibilities. It ain't hard!  That's what I love about our work. What I think about so often, and see so often, is the huge potential in our kids."