More About "Ripple Effect Images"
                             " If you help a woman, you help the planet." – Annie Griffiths
Story Transcript:
Annie Griffiths: We really believe if you help a woman, you help the planet. Because women are, in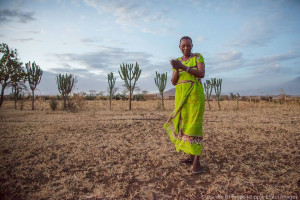 addition to everything else, they're the ones who keep their kids alive. They're on the front lines and I think that's a surprise to everyone.
Heather McElhatton: That's Annie Griffiths, one of the first female photographers ever hired at National Geographic. She started in 1978 and since then, she's photographed in nearly 150 countries.  One of her true loves is photographing women and their communities in developing countries.
Annie Griffiths: For years I had the privilege of sitting on the floors of women's homes, and sharing meals with them, and really learning what their world was like, and I became increasingly distressed by the way, especially poorer women, were portrayed in mainstream media.
Heather McElhatton: Which, Griffiths says was primarily as victims, because of tragedy or their sexual vulnerability.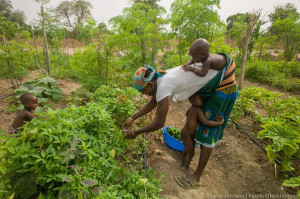 Annie Griffiths: While those stories are important, if that's all people know, it makes them turn away and pity these women, and I was with them all the time, and knew this was not an accurate portrayal of most women in the developing world. They are in fact the engines that drive their communities, they're funny, they're smart, they might not have an education, but boy are the resourceful, and they work together. So as time went on those were the stories I wanted to tell, to help people in the western world know these women have no interest in being pitied.
Heather McElhatton: Griffiths is the Executive Director of Ripple Effect Images, a collective of photographers and filmmakers, primarily from National Geographic, who document aid programs empowering women around the globe. "Ripple" is dedicated to covering under-reported issues and solutions that impact women and children in seven key areas: Food, Water, Health, Education, Energy, Economic Empowerment and Climate Change.
Annie Griffiths:  70% of those who die in any climate disaster are women. It's not women and children, it's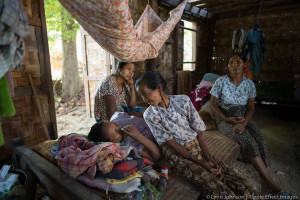 women. And that's because when drought hits or terrible flooding, often the men take off to urban areas to find work and the women are left behind to try and keep the kids alive and the elderly alive, and when they flee as well, they're travelling with their families. So they're simply carrying too big a load, often at great risks to themselves.
Heather McElhatton: Ripple partners with aid organizations around the world,  programs that are helping women improve their lives and community, by providing education for girls, creating fresh drinking water, finding clean fuel sources, and teaching sustainable agricultural practices.   Ripple Effect Images helps aid programs by providing excellent, A-Level, "National Geographic worthy," media packages for them. Imagine you have a tiny aid organization and you need to raise money,  but you don't own a camera, let alone a phone. How do you document your work? How do you tell people what you're doing and what you need to get help? That's where Ripple Effect Images comes in. They send in a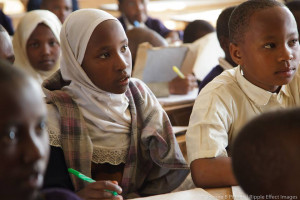 professional photographer, storyteller and filmmaker to create photographs, videos, and documentaries about the aid program.
Annie Griffiths: In a couple weeks I'm going to Tanzania and working with women who are putting solar panels on traditional huts and installing clean cooking stoves in their little bomas.
Heather McElhatton:  Ripple Effect Images identifies top aid groups that empower women and children and assigns world-class photographers to document their programs. The resulting films and images are gifted to the aid groups, dramatically improving their fundraising. Griffiths says there's a 10:1 Return on Investment – and since its inception, Ripple Effect Images has raised over ten million dollars for aid organisations around the world helping women, organizations like T.I.S.T in Kenya, which transforms landscapes by planting trees.
Annie Griffiths: There were terrible erosion problems happening whenever the rainy season came, because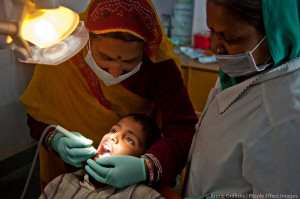 there were no trees to hold the soil, so they organized mostly-women planting groups, and by working together these women have planted millions of trees. They've completely changed the landscape where they lived and as soon as they started having that income, they built a school, they're moving on into little industries of their own, little shops and businesses that will raise the whole community.
Heather McElhatton:  Griffiths says that's how she got the name for her organization.
Annie Griffiths: That's why we're called Ripple effect Images! Because if you help women with one problem, they are immediately onto the next solution. You know, I personally believe that women in the developing world are the best investment we can make in our shared future. Because they'll pay it forward to their families, and communities, and their state, and their nation, and eventually the world.
All photographs courtesy of Ripple Effect Images