More About "Mark Nepo: We Are More Together Than Alone"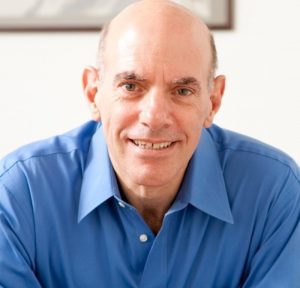 Heather McElhatton:  Today, we meet a cancer survivor who writes about resilience. His name is Mark Nepo, he's 67 years old. He's a poet, philosopher, teacher and cancer survivor. He lives in southwest Michigan and he's just published his twentieth book, titled: "More together Than Alone, discovering the power and spirit of community in our lives and in the world."
Mark Nepo: The title is very straightforward, in that there's a lineage throughout time, that we are more together than alone. A lineage of care and interdependence.
HM: Nepo says he's been working on this book for decades but his very first experience with authentic community occurred thirty years ago, when he almost died from a rare form of lymphoma.
MN: I was thrown into treatment rooms and waiting rooms and doctors offices, there I was sitting next to strangers, and very quickly those strangers became people I was intimate with because all of a sudden all the ways we think are requirements to get to know each other, they were stripped away because we were in the waiting room of an oncology office, and all of a sudden we're on that raft together at sea, being authentic and honest and not being polite or hidden.  When we willfully, or are forced, to share that authentically, that vulnerably…that's when we discover resilience.
HM: Nepo says when we go through tough times, we have a natural opening – a new way – to become connected to the people around us
MN: Facing what I am asked to face, and feeling what I am asked to feel, by going to the bottom of my own experience and personality, through that –  I am suddenly connected to everyone who ever lived, and that rises and fills us with resilience.
HM: Nepo writes about the painful and beautiful experience of taking care of his aging father.
MN: There I was, like a lot of adult children have found themselves at some point, I was feeding my father applesauce. He'd had a stroke. It was a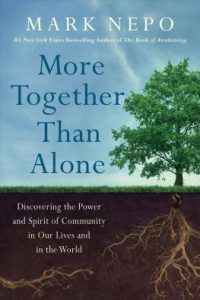 bittersweet, beautiful, hard, sad, wonderful moment, and of course I began to cry.  All of a sudden the most amazing thing happened, I was in a moment of wonder. I tripped into the moment of every child who ever fed a dying parent. that I was able to feel others, in the past, in the future, alongside somewhere else in the world at the same time, and the joining through heart –  of that common experience – I believe is resilience.
HM: Nepo's book draws from historical events, spiritual leaders, and the natural world to demonstrate how people uniting and community  creates a light in the darkest times.
MN: We've had these periods of enlightenment,  like the Iberian peninsula centered in Spain, from 750 to the 1400s, where Jews and Muslims and Christians  not only tolerated each other – they thrived together. Some of the greatest examples of achievement and understanding and wisdom happened during that period – and it all goes back to how each of us has the courage, to make that choice, between love and fear. We're more together than alone.
HM: That's Mark Nepo speaking about his book, "More Together Than Alone, Discovering the power and spirit of community in our lives and in the world. I'm Heather McElhatton and this is A Beautiful World.
http://marknepo.com/soundstrue.php
Music by the Marais Project (Music from Ancient Iberian Peninsula)