More About "People are Good! World Travel with No Money"
Rob Greenfield had a simple idea, that people are good and the world is a good place. So he decided to put his idea to the ultimate test by flying one-way to a far off place with no money, no credit card, no cellphone, not even a toothbrush. Just the clothes on his back and a passport. He says "Mainstream media portrays the world as a dangerous place, a place that you should fear and I'm out to prove them wrong."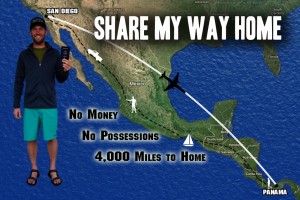 The 29-year-old Wisconsin native landed in Panama City, Panama 4,000 miles and 7 countries from San Diego, California. He had no money, no cell phone, no credit cards, and no camera of his own. He documented his travels by using other peoples cameras and cellphones who he met along the way. He worked odd jobs to earn money for border crossings, travel, and food. He collected cans and sold stuff he found in the garbage. He worked on organic farms in exchange for food and a bed to sleep in. He foraged in the wild for food, ate food that other people wasted and shared meals with the generous people that he met along the way.
He stayed with people he met through sharing websites like couchsurfing and WWOOF and stayed with complete strangers that he met traveling and from social media. He hitchhiked and took buses and even walked part of the way. Dozens of people picked him up on the road side and enjoyed taking part in his adventure. Twenty-eight strangers with cell phones helped him make a short film about his journey, by filming him on the road and then emailin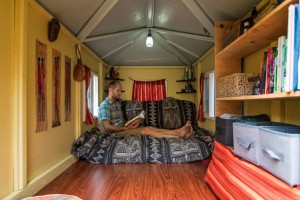 g him video clips and photos.
Generous souls gave him food, transportation and places to sleep, many insisting on getting nothing in return. Rob says by traveling with no money,  he went places and met people he never would have any other way. People showed him that we need a lot less to be happy and healthy than we think and that by living simply we can live freely. His happiest moments were those when he could help others that he met. Greenfield arrived back in San Diego 37 days later with just ten cents in his pocket. When he got home all he could think is PEOPLE ARE GOOD!
Rob Greenfield is an adventurer, activist, and humanitarian for a sustainable and just world. He donates 100% of his media income to grassroots nonprofits. His YouTube channel is a source for all things sustainable living, off the grid, simple living, zero waste, tiny house, grow your own food, cycling, and green living.